Disclosure: This post may contain affiliate links. Purchasing a product through one of these links generates a commission for us at no additional expense to you.
Want to make a sitemap for your WordPress blog?
Even if you don't have much (or any) expertise with web development, you've almost certainly heard of Search Engine Optimization (SEO). This broad phrase encompasses various tactics that can help your site rank higher in search engines.
Many SEO methods you'll come across are keyword-focused, but other factors are also essential to achieve high rankings in the search engine.
Creating a sitemap, for example, is one of the most effective ways to boost organic traffic. A sitemap is simply a list of all of your site's pages, along with some data about each one.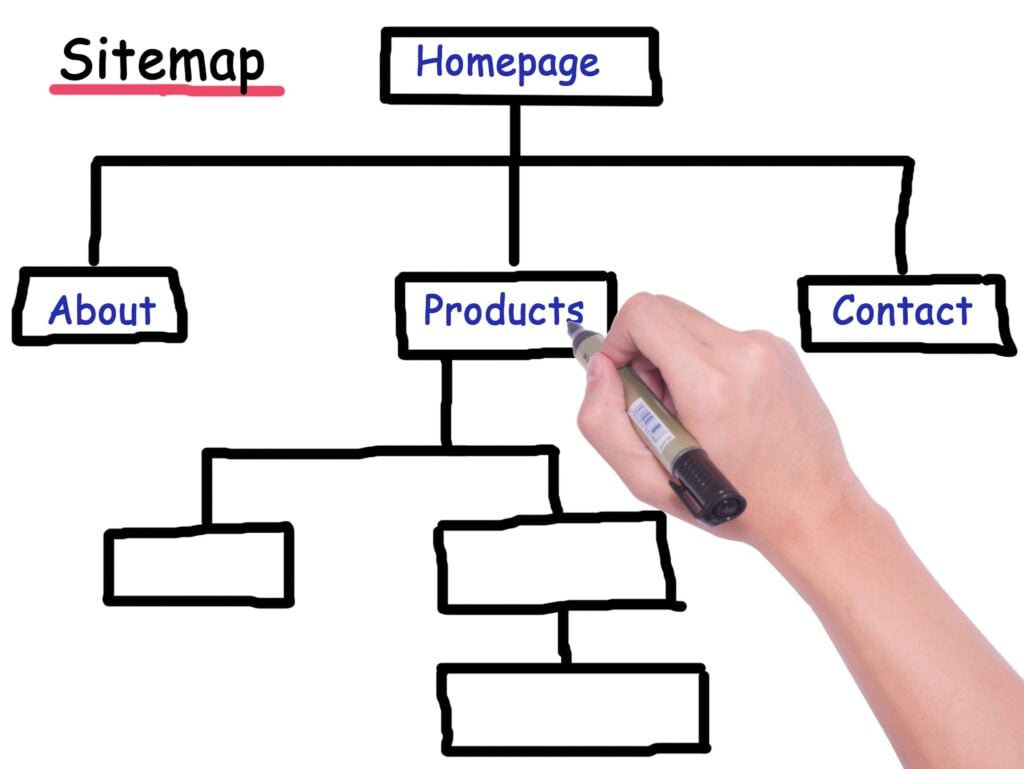 The main benefit of a sitemap is that it helps search engines like Google find all of your pages. This leads to better indexing and more search traffic.
In this article, we're going to walk you through the details of sitemaps and how to create one.
Without further ado, let's get started.
What are sitemaps?
Have you ever thought about how Google determines which websites to rank and how they are organized? Googlebot is the key — a 'crawler' program with two primary functions.
Googlebot is a web crawler that moves from page to page. It keeps track of the numerous URLs it visits and how they're connected along the route. Google then uses this information to generate search results.
Given Google's enormous popularity and the importance of organic (search engine) traffic in general, you'll want to do everything you can to aid this bot in understanding your site. Here's where sitemaps come into the picture.
A sitemap (sometimes known as an XML sitemap) is a page that contains links to all the pages of a website. It is a blueprint for search engines to find, crawl, and index all of your content.
Importance of sitemaps
Links are the most common way for Google to find web pages. A sitemap is also essential for helping Google identify pages on your site if it is brand new and only has a few external backlinks.
For instance, if you manage a 5-million-page eCommerce site. Google will have a hard time locating all of those pages unless your internal linking is really well done and your site has loads of external backlinks.
The two primary goals of sitemaps are:
Ensuring that Googlebot finds and explores every page.
Tell search engine bots how pages are ordered and related to one another and when they were last changed.
XML sitemaps can assist search engines such as Google in discovering new pages on your site or pages that are not effectively linked.
An HTML sitemap can be a useful, particularly if the website is vast (over 2000 pages) and the linking architecture is based only on topic or listing pages with pagination. On a large site, the HTML sitemap can help with site structure and link value distribution.
How to use XML Sitemaps (for search bots)
You can use an XML sitemap generator to build XML sitemaps regularly, or if you're using a WordPress plugin, you can use a plugin that will auto-generate one for you. We have listed few ways to add XML Sitemaps to your WordPress site here.
1. Add XML Sitemaps Using Rank Math plugin
WordPress creates a basic sitemap on its own, but it includes anything you haven't indexed yet, which may result in errors on your website. You can't change the default WordPress sitemap unless you know how to code in PHP.
As a result, we recommend using a plugin when establishing a sitemap in WordPress. Rank Math is the most convenient approach to create an XML sitemap. It's one of the best WordPress SEO plugins and includes tons of features.
When you first install Rank Math, you'll be taken through the setup wizard, which includes the configuration of the sitemap.
If you skip the setup wizard, you can always access the sitemap settings through the Rank Math menu item in the sidebar.
The Sitemap Settings will open up as shown below:
You can read an extensive guide on creating sitemaps in Rank Math that'll further help you understand each setting in detail.
2. Create an XML sitemap with Screaming Frog
Screaming Frog is an advanced SEO tool that can run site audits and report back on-page SEO mistakes.
Any website can benefit from an XML sitemap created with Screaming Frog. It makes no difference what CMS you're using, how big your website is, or how old it is.
To create a sitemap, you don't even need to own the website or have login access to it. It will just take a few minutes for Screaming Frog to crawl your website and generate the sitemap for you.
Then, you can upload the sitemap to your site. Login to Google Search Console and supply the sitemap URL so they can crawl it and save it for future reference.
How to use HTML sitemaps (for visitors)
HTML Sitemaps are generally used for users to look at the site, whereas XML sitemaps are for bots.
You might want to add an HTML sitemap to a page on your site for visitors to navigate. Most likely, your navigation menu should handle this fine on its own, but it doesn't hurt to add. Google suggests generating a sitemap for your site's users in its Webmaster Guidelines.
There are three ways in which you can add HTML sitemap to your site.
1. Use the Simple Sitemap plugin
Simple Sitemap is a free WordPress plugin that makes it easy to add an HTML sitemap to your site.
You can install Simple Sitemap by searching for it in the Plugins > Add New menu.
After activating the plugin, navigate to Pages > Add New to create a new page for your sitemap. Inside the editor, click the plus icon to add a new block and select the Simple Sitemap option as shown below:
Once you add the block, your HTML Sitemap is automatically embedded.
You can then include a link to this page in your footer so that visitors can find it.
2. Use a shortcode from Simple Sitemap
Simple Sitemap also lets you use a shortcode, which is great for outputting dynamic content inside your posts and pages. And perhaps more importantly, shortcodes work with the Classic Editor, unlike blocks.
Start by including the shortcode block in your page.
Select the Shortcode block and copy and paste one of the below shortcodes in the editor.
[simple-sitemap-group]
[simple-sitemap]
This will either output a single sitemap or a group of sitemaps (post and page sitemaps).
3. Embed a sitemap
If you'd prefer not to use a plugin, you can use the XML-Sitemaps.com sitemap generator.
Once you've got your sitemap in hand, you can embed it manually in your page.
Conclusion
There's a lot more to SEO than putting keywords on your site. You also have to make sure your content is freely accessible and easy for the search engines to crawl.
One of the simplest and most effective ways to do so is to create a sitemap. As we've seen, the Rank Math plugin makes it extremely simple to create a sitemap. Then, to speed up the crawling process, simply upload it to your site and add it to Google Search Console.
If you want to further improve your search rankings, you might want to learn how to republish old content to get a boost:
How to Republish a WordPress Post for SEO & Traffic
Thanks for reading, and if you enjoyed this tutorial, please share it using the buttons below.