Finding great plugins isn't always easy.
When you need some new functionality on your site, you know it's time to find a plugin, but where do you start? There are plenty of confusing and ineffective plugins out there.
In this post, you'll learn a three step plan for reliably finding excellent plugins.
Step 1: Our WordPress Resources Page
The first place to check is our curated list of recommended WordPress plugins and resources.
This is a list of excellent plugins I've used over the years with WordPress, and they're among the best available.
Now, there are only so many plugins listed on the resources page. If you can't find the type of plugin you need there, head on to step two.
Step 2: Use Google to Find Plugin Listings
Check out this clever search query:
site:wordpress.org/plugins/ KEYWORD
If you search for this in Google, it will restrict all results to the wordpress.org plugin repository. This lets you search the plugin repository with the full power of Google search, instead of using wordpress.org's site search.
Replace "KEYWORD" with the terms related to the plugin you need, and you'll find plenty of results. Here's what the results look like for a social sharing plugin: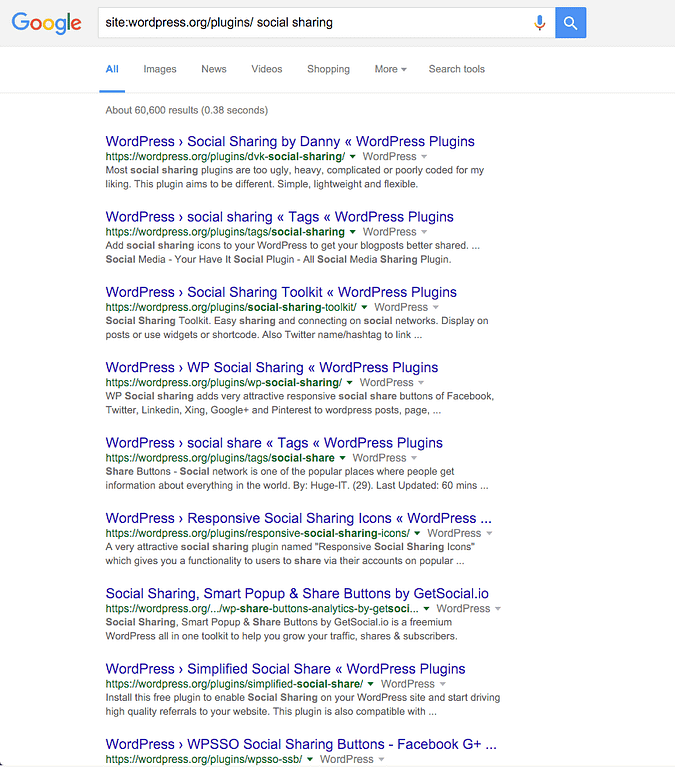 If you don't like the "Tags" page results that show up, you can modify the query like this to exclude them too:
site:wordpress.org/plugins/ social sharing -intitle:tags
Step 3: Find List Posts
While you can search for plugins yourself, there are people who have already done it for you.
Bloggers who write about WordPress are constantly researching and curating lists of the best plugins available.
For instance, if you are looking for a plugin to add a list related posts after each post, you would try a search in Google like this:
wordpress best related posts plugins
That will produce results like this:
The top three results are lists of relevant plugins you can check out.
Also, poorly reviewed plugins don't usually make it onto these lists, so each plugin is a viable option for your site.
Reviewing the Quality of a Plugin
Now that you know how to find a great plugin, there's one more thing to consider: how can you tell if it is a great plugin?
Here are the signs of a great plugin:
More five star reviews than any other star count
Updated within the last few months
10,000+ active installs
If a plugin fits inline with the above, it's definitely worth installing. There are a few exceptions to those rules.
Reviews
Sometimes, you'll see a plugin with a lot of five star and a lot of one star reviews. Click on the one star reviews and find out why they're being added. Was there a bad update a year ago that no longer is a problem? Or, has the plugin stopped working recently?
By reading the bad reviews you can figure out if it's going to cause problems, or if you can disregard them entirely.
Most Recent Update
A plugin can still work perfectly without being updated for years, but usually, a recent update is a good sign that it is actively being developed and thus is functioning well.
If you're going to install a plugin that hasn't been updated in 2+ years, it is a good idea to first backup your site just in case of an error.
Learn how to backup your site.
Active Installs
If thousands of sites are currently using the plugin, then it must be pretty good. In the least, it isn't doing any harm.
If the number of active installs is low, that doesn't mean it's a bad plugin either. If the plugin is new, then it may still be getting traction. Or, it may not be popular because its use is very specific. If you need the plugin for something most sites don't need, then don't worry if the plugin isn't popular.
Support
There are plenty of great plugins that don't offer support on wordpress.org. However, if the author is offering support, then that is a good sign that the plugin is being developed and improved. Plus, you can get help if you need it.
Don't be turned off right away if the plugin is a "lite" version. Most often, plugins that have active support and updates also have a premium upgrade. That's how the developers can afford to provide support and updates. Often times, it's still a better product than most free plugins.
Conclusion
Bookmark this page for next time you need to find a new plugin. I'm sure it will help you find a better solution, faster.
If you have any other tips or ideas for finding or reviewing plugins, post them in the comments section below.