As you have noticed, there is no Blogroll widget for self-hosted WordPress sites.
The good news is, it's quite easy to add one. In this post, you'll learn how to use the Text widget to add a Blogroll to your sidebar.
Step 1: Add the Widget to Your Sidebar
The first step is to visit the Widgets page and locate the Text widget. Every WordPress install includes this widget.
Click on it, and you'll be presented with the available widget areas. Select your sidebar widget area, and click "Add Widget".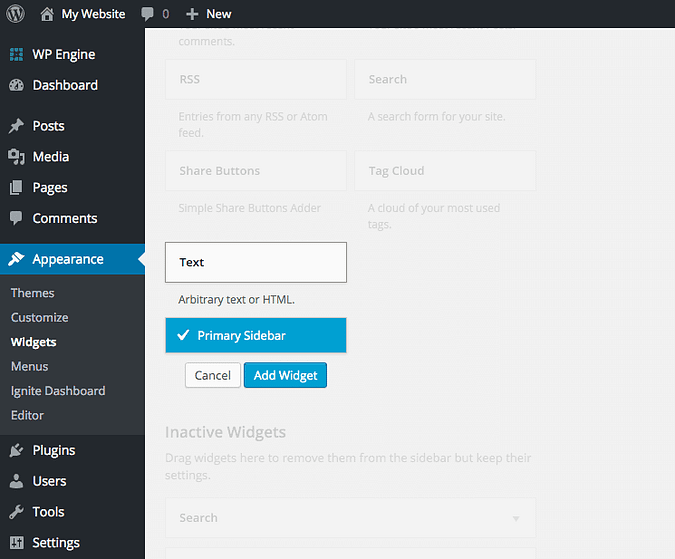 Now it's time to add the links.
Step 2: Add the Site Links
We're going to add the list of links using HTML. Don't be intimidated by the code – it's almost 100% copy and paste.
Here is the HTML you can copy into your text widget:
<ul>
  <li>
    <a href="http://google.com">Site 1</a>
  </li>
  <li>
    <a href="http://google.com">Site 2</a>
  </li>
    <li><a href="http://google.com">Site 3</a>
  </li>
</ul>

This will create a list of links. You just need to make a few modifications to the text, and you'll be done.
Step 3: Change the URLs
In the HTML, see the three places it says "http://google.com"? Replace each Google URL with the URL of a site you want to link to.
After you've replaced the URLs, save the widget.
All of the links will still say "Site 1/2/3", but they'll lead to the URLs you added. The last step is to change the names of the sites.
Step 4: Change the Site Names
Locate the link anchor text ("Site 1", "Site 2", "Site 3"), and replace each one with the name of the site you want. For instance, if I wanted the first link point to this site, I would modify the code like this:
<ul>
  <li>
    <a href="https://www.competethemes.com">Compete Themes</a>
  </li>
  <li>
    <a href="http://google.com">Google</a>
  </li>
    <li><a href="http://google.com">Google</a>
  </li>
</ul>

Once you're finished editing the HTML, save the widget and check out your new blogroll.
Conclusion
Now, you have a blogroll in your sidebar, and you can add and remove new sites whenever you'd like.
If this was your first time working with HTML, it may have been a little weird and confusing, but you've just learned something new and valuable. With a bit of knowledge about using HTML, you can do all sorts of things with the Text widget.