WordPress isn't perfect.
One feature WordPress lacks is the ability to create and add tables to posts and pages.
Fortunately, dozens of easy-to-use plugins are available to help you create visually appealing tables for your WordPress site.
WordPress Table Plugins
After delving into WordPress' immense plugin index to narrow down your options, these are the five best plugins I could find.
These plugins, two paid and three free, make creating beautiful tables for WordPress as simple and straightforward as possible.
---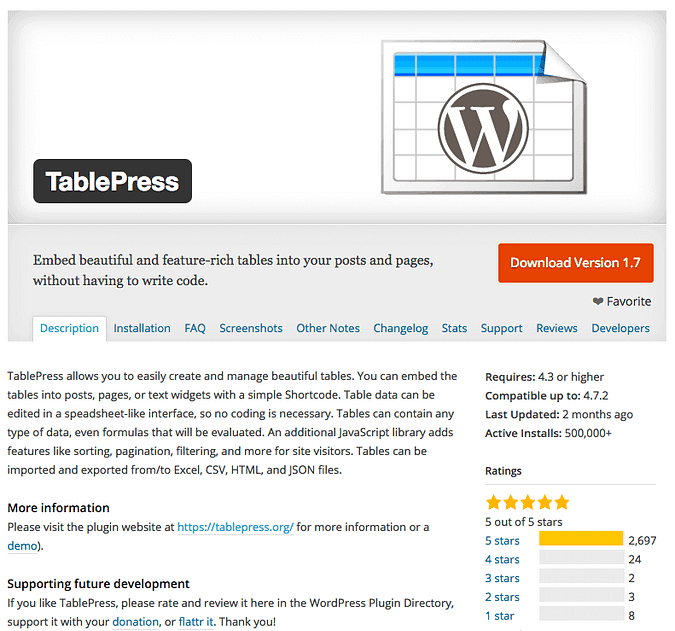 Free | Get this plugin | Premium Extensions (donation)
With over half a million active installs, TablePress is far and away the most popular free table plugin for WordPress.
TablePress's impressive 5-star average rating is thanks in large part to its simplicity. While creating tables can be time-consuming, it probably can't be made easier than with this plugin.
If you prefer not to use the built-in spreadsheet-like table-building interface, you can alternatively import data from an outside source like CSV or MySQL. Altogether, TablePress is one of the best options to add tables to posts with WordPress.
Features
Supports multiple languages
Source data from CSV, HTML, XLS, XLSX, JSON
Straightforward data entry
Simple, intuitive table designs
Tables are searchable
---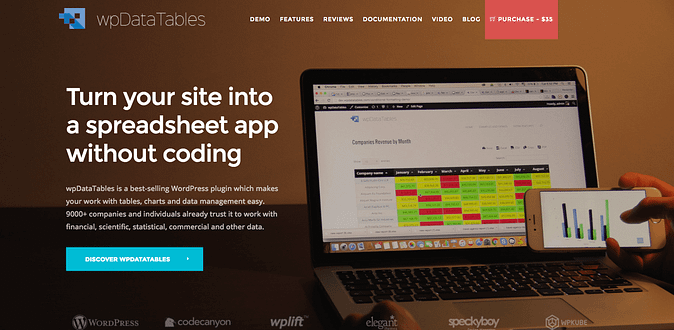 $35 | Get this plugin
wpDataTables is among the most comprehensive WordPress table plugins with an extensive array of features. Each feature is fully customizable giving you the utmost control.
One limitation with this plugin is that you're required to import data from an outside source (such as Excel, CSV, or MySQL) instead of creating a table from your WordPress dashboard. While this can be a pain, it's also one of the reasons why wpDataTables can handle a massive amount data without issue.
Despite that slight hiccup, the amazing customizability and interactivity of wpDataTables make it one of the best WordPress table plugins.
Features
Tables are searchable and sortable
Source data from Excel, CSV, MySQL, XML, JSON, Google Sheets
Highly customizable backend
Tables are responsive (can be toggled on/off)
Supports over 40 languages
---
$19 | Get this plugin
Grid Pro WP is a table plugin with an emphasis on sortability. It's designed to be extremely easy for users to navigate and find the entries they're looking for. It would work great for any very large datasets.
The aesthetic of the tables is a bit lacking, but it's clear and easy to read. Visitors can sort the table by any of the columns by clicking on one of the column headings. There's even a search bar for each individual column to make data extraction simple. Perhaps the coolest feature is the range slider that allows you to define a custom range to filter results with.
Features
Easy to find info from large amounts of data
Innovating sorting/filtering controls
Works with many data types
Supports images
Pagination available
---

$15 | Get this plugin
League Table is a special type of table plugin designed for sports team rankings. It's used to display the current standings of teams in a league.
This table plugin features a simple editor that makes entering data into each row and column easy.
The tables themselves are responsive and very attractive. With a high degree of customization included, you have plenty of freedom to make the rankings display exactly how you want.
Unfortunately, tables have to be created with the League Table plugin. There is currently no option to import data from an outside source.
Features
Beautiful table layouts
Plenty of customization options
Top-notch responsiveness settings
Simple table editor
Straightforward data entry
---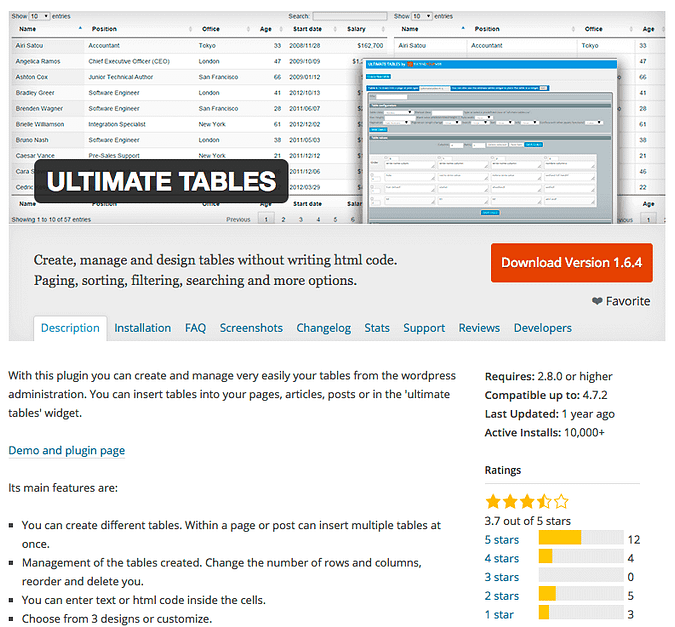 Free | Get this plugin | No upgrade
Though it's a lesser known table creation plugin, Ultimate Tables is among the best of the best, especially at creating tables form very large data sets.
In fact, Ultimate Tables can handle more than 200 rows of data without a hiccup. While wpDataTables is capable of displaying more, this is likely the best free option for handling large data sets.
The only cons are that customization options are limited and the tables aren't responsive.
Features
Handles large data sets
HTML allowed in table cells
3 table designs
Table pagination options
Sortable in backend
Which WordPress Table Plugin is Right for You?
The WordPress table plugin that's right for you depends on your specific needs, especially as far as customization, responsiveness, and where data size are concerned. Make sure to list out the features you need and compare across the plugins.
If I had to recommend one out of all the plugins available, I'd say TablePress is likely your best option. And secondly, if you're okay with paying for a plugin, wpDataTables is an extremely feature-rich choice.
Are there any features or plugins missing in this list? Post in the comments below.