Did you know that WordPress has its own gallery tool?
All you need to get started with galleries are the images you want displayed. In this tutorial, you'll learn exactly how to create, modify, and publish galleries in your posts and pages with WordPress.
How to Add a Gallery to a Post/Page
The first step is to create the gallery you want included in the post/page.
Create the gallery
Navigate to the edit screen for a post or page you want to add a gallery to. In the post editor, click on the Add Media button.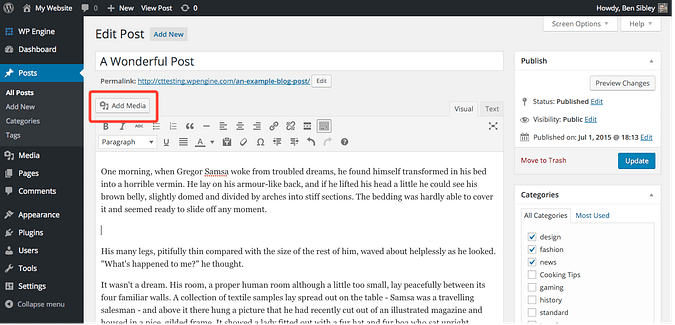 In the popup that appears, click on the Create Gallery link in the top-left corner.
The interface is very similar, but now instead of selecting an image to insert, you are selecting images to include in a gallery. You can click on an image to add it, and click on the check/minus button to remove it.
When you're finished selecting the images you want used in your gallery, click the Create a new gallery button in the bottom-right corner.
Edit the gallery
You now have a gallery with the images you want to use included. After creating the gallery, you'll see the following screen for editing the gallery:
This is where you can reorder the images by dragging-and-dropping them, and add captions.
There are also a few additional gallery settings on the right side of the popup. Most notably, there is an option to define the number of columns in the gallery. For most galleries, 3-5 columns will display nicely.
If you're using Jetpack and have the Tiled Galleries module activated, you'll also have a number of different layouts to choose from.
Publish the gallery
The final step is to click the Insert gallery button in the bottom-right corner, and the gallery will be added to the post/page.
You can insert as many galleries as you want in a post/page. If you want to edit an inserted gallery, click on any image in a gallery, and a pencil icon will appear which you can click on to edit the gallery.
The only trouble with galleries is that the images displayed are very small. However, this can be easily fixed with a lightbox. Check out our post on adding a lightbox to WordPress galleries if you're interested in larger gallery image display.
Conclusion
Galleries are a great way to allow visitors to browse a large number of images on your site. As a native WordPress option, most themes, including all themes at Compete Themes, display galleries effectively on your site.
Next time you need to add many images to a post, try using a WordPress gallery following the steps above.