Page builders.
They forever transformed how we use WordPress.
If you've picked the right theme, used all the standard customization options available, and learned how to use CSS Hero for more advanced customizations, the final step is to use a page builder.
What are page builders?
Page builders are plugins that give you a drag-and-drop interface to create your own page templates. This is an awesome feature because you don't need to rely on your theme to create the exact layout you want.
The top page builder plugins are:
I'll be demonstrating features in this post using the Elementor page builder. Elementor is the fastest growing page builder and it also has an excellent free version.
Why use a page builder?
Page builders have a ton of benefits, but they can be overwhelming.
Let's take a look at what they can do one feature at a time.
Click here to try Elementor for yourself
Add new elements to pages
When editing pages (or posts) with WordPress, it's easy to add text and images via the editor. However, there's not a built-in way to add other types of content like buttons, social icons, or Google Maps embeds.
Here's how easy it is to add a button to a page using the Elementor plugin: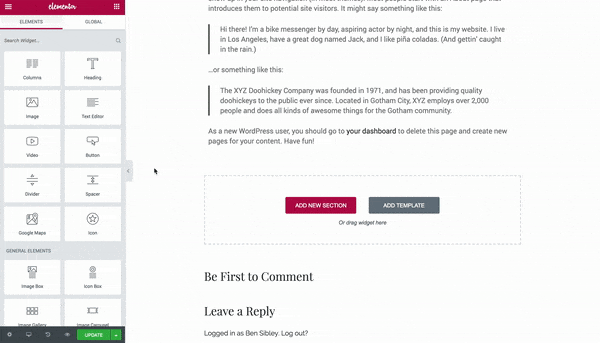 Page builders come with tons of these elements and the Elementor plugin includes 28.
This is a nice way to spruce up a post or page with some interesting and stylish new elements. Speaking of which…
Style page elements
When using a page builder, you get full control over the style of every element you add.
You can see in the GIF above the basic customization options available for the button, but that was only in the Content tab. The Style and Advanced tabs in Elementor have a ton more settings.
The number of settings is dizzying – it can be overwhelming!
The good news is that you don't need to use them all. It's just nice knowing they are there for when you need them.
Create interesting layouts
Have you ever tried creating multiple columns in a WordPress post?
It's a nightmare.
This is another area where page builders excel.
With Elementor, you can click the Add New Section button and choose from twelve different layouts.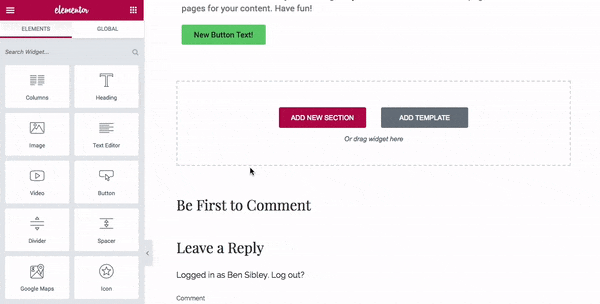 To review, Elementor gives you 28 "elements" you can add to any post or page. You can add "sections" to create multi-column layouts to contain the elements.
With these two features alone, I think you can see how awesome page builders are. That said, we've only scratched the surface.
What else can you do with Elementor?
Unlike the other page builders, Elementor has an awesome free plugin, and everything we've covered so far can be done with the free version.
Now let's look at some more advanced features available in both the free and premium version.
Add Blocks
This is where Elementor starts to shine as an advanced page builder.
Adding individual elements is cool, but what if you click the Add Template button?

It presents you with a popup like this: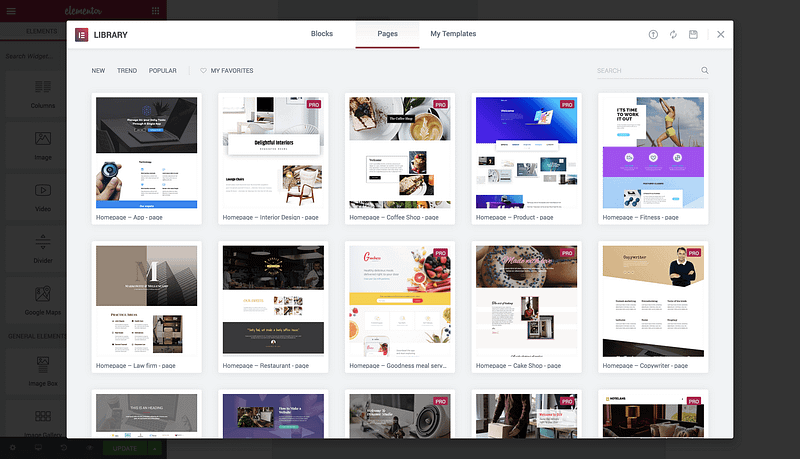 If you click on the Blocks menu item at the top, you'll find hundreds of pre-designed sections.
Remember how you could create sections and add elements?
These "Blocks" are sections with elements already included and styled for you. All you need to do is insert one and then replace the text with your own. It makes creating custom pages so fast and simple.
There's even a Category drop-down selector so you can search through relevant blocks only. For instance, search for a portfolio section, stats, or pricing table.
Add Pages
Blocks are fantastic and demonstrate how you could quickly create your own pages from scratch.
Pages take it to the next level.
You can literally select a completed page and insert it into your site. Use any of the pages shown in the popup of which there are hundreds.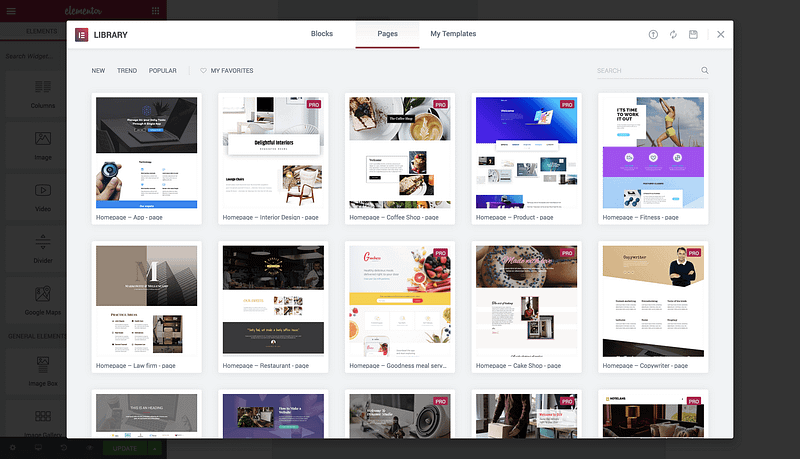 Most of the Blocks and some of the Pages are available in the free version. You can get access to all Blocks and Pages with Elementor Pro.
Now you may be wondering, how can I fit a complete webpage inside one of my pages?
Create landing pages
When editing a WordPress page, you can usually (depends on the theme) choose a different template from the right sidebar.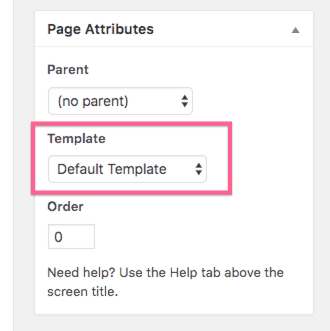 Elementor adds a "canvas" template that gives you the entire site to work with.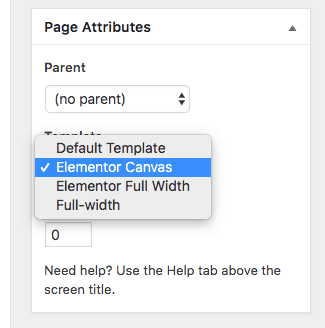 This template is quite literally a blank canvas. None of your theme's elements will be output – not the header, footer, or anything else. With a clean slate to work with, you can insert a complete "Page" and instantly have a brand new design to customize.
Create your own templates
If you create a section and use it on one page, you're likely to reuse it on another page. That's why Elementor allows you to save your own sections and pages.
You can create sections from the My Templates menu added by Elementor.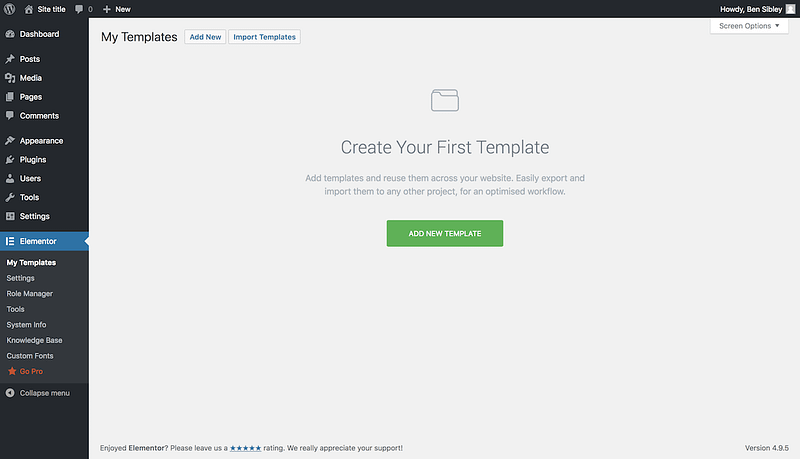 You'll see the exact same editor when using this option and any content you create isn't published to the site. It's simply saved so you can insert it into a real post or page later.
You may not need this option, but when used effectively, it can save you a lot of time.
Utilize thousands of widgets
Elementor has a really nice interface and a robust set of customization tools, but there's one more aspect that makes it the best-designed page builder IMO.
Elementor comes with 28 widgets for including various elements in your posts/pages, but you can also use all 17 of WordPress' built-in widgets and widgets added from any other plugin. While Elementor provides you with most of the elements you'll need, it's awesome that you can use widgets from any of the thousands of free plugins available.
Elementor Pro
As I mentioned previously, upgrading to Elementor Pro gives you access to all of the Blocks and pre-made Pages you saw in this post. In addition, there are also new elements like sliders, pricing tables, WooCommerce product lists, and more.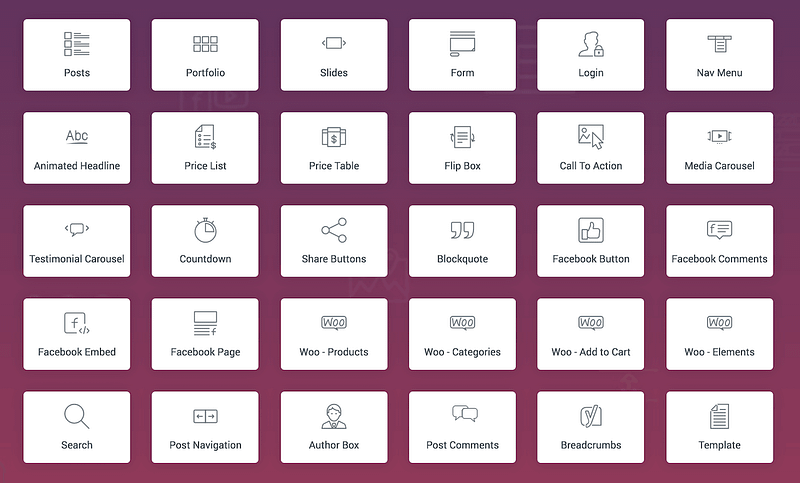 There are some other features too, but the most interesting one left is the "theme builder." You can use it to basically design a complete site from scratch. It's incredible. You'll have to check it out for yourself to see how it works.
Do you need a page builder?
For many WordPress users, a page builder won't be necessary to customize a site to their liking. You might have everything you need in your theme, or you learned how to use CSS Hero to make any last adjustments.
For those who want full control, a page builder like Elementor will seem like a godsend. The only way to get a similar level of customizability for your site is to use a multipurpose theme.
Click here to check out Elementor now
While I recommend Elementor over other page builders, it's certainly worth spending some time comparing and figuring out which one is best for your site. The other top page builders are:
Beaver Builder has been very popular amongst freelancers and if you've ever purchased a Themeforest theme, you've likely received a bundled copy of Visual Composer.