A question I often get is:
"How can I add my homepage to my menu?"
When you're displaying your latest posts on your front page, you won't see any options to add it to your menu. The solution is to use a custom link.
In this tutorial, you'll learn how to add custom links to your menu.
How to Add a Custom Link to a Menu
First, visit the Menus page in your dashboard (Appearance > Menus). If you already have an existing menu, you should see it on the right-side.
If you haven't created a custom menu yet, select the Pages on the left-side you want to add, and use the Add to Menu button to include them. Or, follow the wordpress.org menu tutorial.
Next, locate the Custom Links section on the left-side of the screen. Once you click on it, the section will expand providing you with URL and Link text options.
This is where you can create a link to your homepage, or any other page.
In the URL input, add the full address of your website including "http://" at the beginning. Then, add "Home" as the Link text, and click the Add to Menu button.
You'll now see the new "Home" link added to the Menu Structure.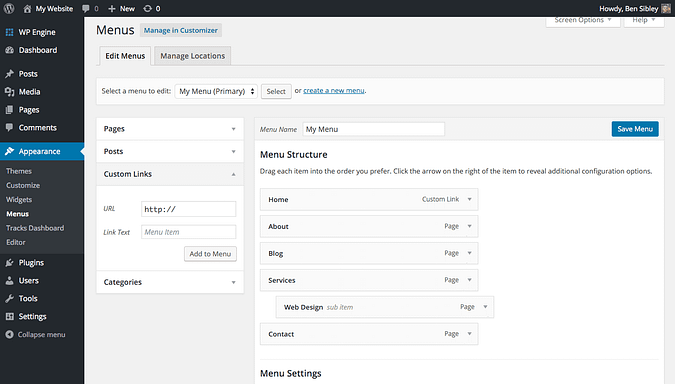 You can now drag-and-drop it into the position you want, and then save the menu to update it on your site.
Conclusion
With the use of custom links, you have complete control over the links featured in your menu.
Beyond linking to your homepage, custom links are also useful for linking to archives, custom post types, and external webpages.