Your website's menu is like a compass.
It helps visitors find what they're looking for and can directly to increase visit duration and conversion rates.
Luckily, dozens of great WordPress plugins are available to help you make your website's navigation menu that much more powerful.
WordPress Menu Plugins
With the immense popularity of mobile devices, it's essential you select a menu with responsive design in addition to high customizability and aesthetics.
After sorting through the top WordPress menu plugins, I've narrowed down the options to five of the very best.
These plugins, three paid and two free, make creating a responsive WordPress menu a cinch.
Check out our mega menu WordPress themes and vertical menu themes for a cool new template for your site.
---
Free | Get this plugin | Premium upgrade
Max Mega Menu utilizes drag-and-drop editing to make building menus from your admin dashboard as easy as possible. You can even preview in real time to see how your menu is coming along.
Another highlight of Max Mega Menu is its customizability features. Nearly endless options allow you to add interactive elements with images, icons, maps, widgets, and more.
Despite the impressive array of features, this WordPress menu plugin is still one of the fastest loading available.
Top Features
Drag-and-drop editing
Add icons to menu items
Organize with interactive elements
Use with existing themes
Less than 2kb for quick loading
---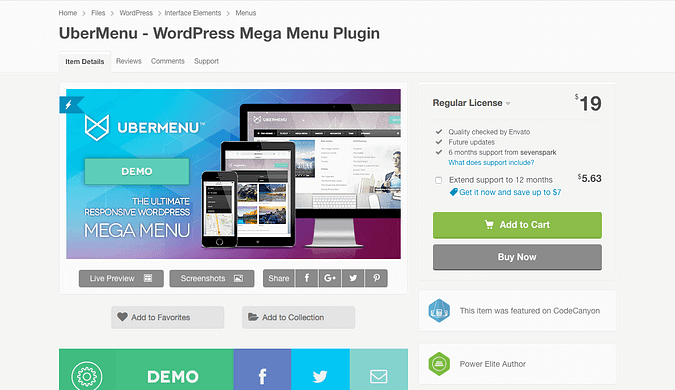 $19 | Get this plugin
Perhaps the most powerful menu plugin currently available for WordPress, UberMenu allows you to build incredibly complex, yet visually beautiful, mega menus with multiple layers of "sub-menus."
Despite its many features, UberMenu is remarkably user-friendly. It utilizes an intuitive menu-building platform using responsive grids.
It also allows you to include interactive elements like images, maps, and widgets as menu items to completely customize your responsive WordPress menu.
Top Features
Intuitive menu-builder
Dozens of responsive features
Highly customizable content
Live preview function
Four extensions (available separately or $19 bundle)
---
$22 | Get this plugin
Superfly is great for anyone who prefers a vertical navigation menu over a horizontal one.
The menus are hidden behind a toggle button at the top corner of the page, giving you more space for the rest of your content. This creates a very clean look (especially on mobile devices).
This responsive menu plugin features numerous styling and customization options. It also supports multiple "sub-menus" as well as social sharing buttons in the menus.
Top Features
Vertical menus for space saving
Incredible for mobile responsiveness
Abundant customization options
Upload custom imagery to menus
Supports four levels of "sub-menus"
---
Free | Get this plugin | Premium upgrade
Specifically designed for building sliding mobile menus, this WordPress menu plugin naturally excels at responsiveness and "mobile friendliness."
It seamlessly integrates with the WordPress admin interface and features user-friendly menu-building tools. Dozens of options allow you a lot of wiggle room to customize your menus.
Perhaps the best aspect of WP Responsive Menu, however, is the streamlined menu creation process. It takes less than 5 minutes to create a functional, beautiful menu.
Top Features
Sliding mobile menus
Fully responsive on all mobile devices
Intuitive menu-building interface
Dozens of customizable options
Ability to hide unwanted elements on mobile
---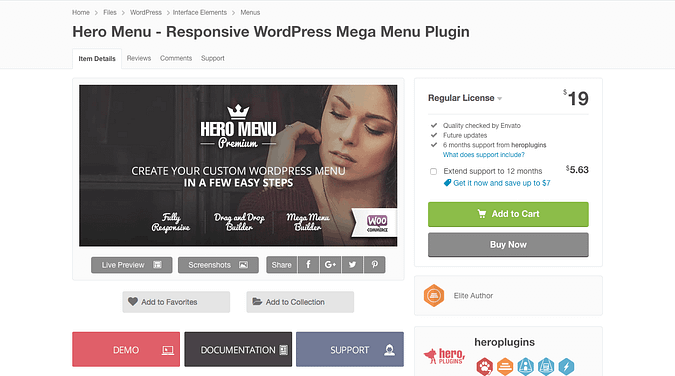 $19 | Get this plugin
Hero Menu features many customizable options, making it one of the most versatile WordPress menu plugins currently available.
250+ free icons, 650 Google fonts, and infinite colors are only the beginning as far as styling options go. You can also add interactive elements like pictures, maps, and widgets.
A streamlined interface makes building a navigation mega menu with Hero Menu effortless.
Top Features
Intuitive menu-building interface
Unlimited customization options
60 design pre-sets
"Sticky menu" functionality
Fully responsive on all mobile devices
---
Which WordPress Menu Plugin is Best for You?
Responsive web design is a must nowadays. And it starts with a functional, visually appealing navigation menu that looks great on all devices.
Though each of the five WordPress menu plugins discussed above will appeal to a different audience, there's no denying they're all high among the best currently available.
Is there any feature not listed above? Have another recommendation? Post a comment below.