Need to share a PDF in a post or page?
It's not obvious how to upload and link to PDFs with WordPress, but in this post, you'll learn two quick steps for sharing any PDF on a post or page.
How to Upload a PDF
Every WordPress install has a media section for handling images and video. Even though PDFs (usually) aren't images, they can still be uploaded via the Media menu like images.
To upload a PDF to your site, first visit the Media menu in your dashboard. Then, click on the Add New button at the top of the page.
You can then drag-and-drop the PDF into the outlined area, or use the Select Files button to select the PDF.
Now that the PDF has been uploaded to your site, it has a URL you can link to.
How to Link to a PDF
In the Media menu, click on the PDF you just uploaded, and you'll see a popup with info about it.
You can find the URL on the right-side of the popup. This is the permanent URL for the PDF which you can always link to and find here.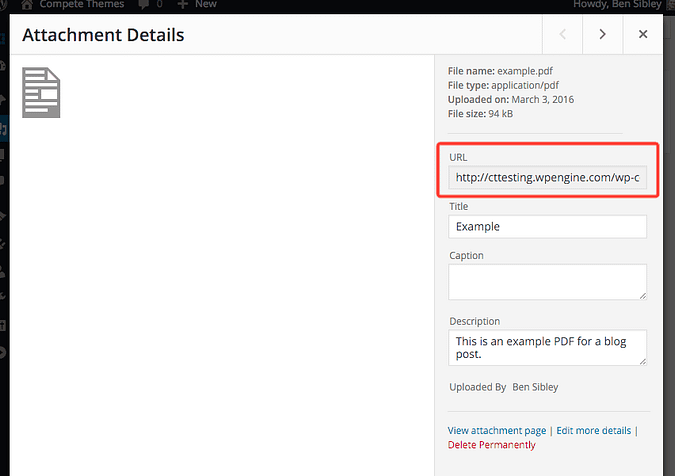 The final step is to copy the PDF URL, and add a link to it in your post/page. You now have a clickable link that will take visitors directly to the PDF in their browser.
If you want visitors to download the PDF instead of viewing it in their browser, add a note below the PDF that says, "right-click and choose 'Save Link as…' to download". Every browser has an option like this for downloading files.
There are also a few simple steps you can follow to embed PDFs in your posts and pages.
Conclusion
Adding PDFs to your site is pretty straightforward once you know what to do. You can follow these steps to upload and link to any number of PDFs on your WordPress site.
If you have any questions about adding or linking to PDFs, leave a comment below.