By default, WordPress displays the 10 newest posts on the front page.
If you want to show more or fewer posts on your front page, there's a simple setting you can use in the dashboard.
Want to change the number of posts listed on each page in your admin dashboard? Check out this post for a solution.
Change How Many Posts Show on Your Blog
Subscribe to Compete Themes on Youtube
First, login to your WordPress dashboard.
Once logged in, visit the Reading settings menu. If you hover over the Settings menu item, the Reading settings page will be the third option.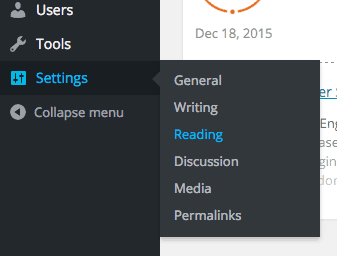 In the Reading settings menu, locate the "Blog pages show at most" option.
Change the number in the input to the number of posts you want displayed on each blog page. Then, click the Save Changes button to complete the update.
Your blog will now display that many posts on each page. For instance, if you chose to display 7 posts and you have 13 posts in total, the blog would display 7 posts and have a link at the bottom leading to a second page of 6 posts. This is called pagination.
You can scroll to the bottom of the Compete Themes blog page to see an example of this pagination in action.
Conclusion
Now you can decide exactly how many posts you want displayed on each page of your blog.
This works the same way if you have the blog displaying on your front page, or if you have a static homepage and the blog is located on another page.